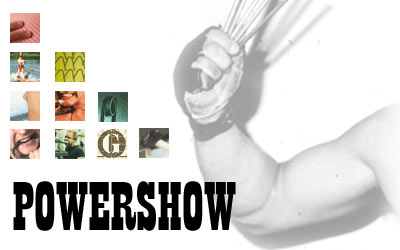 Le Powershow: l'attraction singulière pour toutes manifestations.
Le ' Power Show' de Georges Christen est un spectacle de tours de force basé sur un genre de variétés ayant connu son heure de gloire à la fin du 19e siècle et qu'il a adapté aux temps modernes. Le show d'une durée d'environ 40 minutes relate les différents records et exploits qu'il a réalisés durant les 20 dernières années ... en savoir plus

The Powershow: the unique event for every audience.
Proud holder of 23 Guinness Book World Records in feats of strength - such as bending nails, towing trains, planes, and ships with his teeth, or tearing up the yellow pages - Luxembourg strongman Georges Christen has been touring his unique PowerShow for more than twenty years. Muscles, sweat, and blood make his performing routine a unique mixture of genuine power and vintage-style entertainment, appreciated by audiences the world over.

Biographie officielle


Introduction article


Biographischer Artikel
New / Nouveau:
Tour de Force DVD